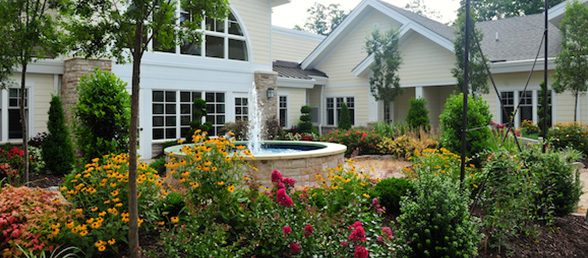 what is the community hospice house?
At the Community Hospice House, our team of physicians, nurses, social workers, chaplains and volunteers attempt to bring the same warmth and comforts of home. Located on the Southside of Richmond near the intersection of Robious and Old Bon Air roads, the Community Hospice House staff delivers full-time, personalized care with the kind of compassion that you would expect, because here, patients are family.
Our 16-bed facility creates a warm and serene atmosphere to help support patients, as well as families, with physical, emotional and spiritual needs. The House offers space for families to dine together, relax in communal spaces, and pray and reflect in private spaces. Each beautiful room has a private bath, access to the outside gardens, and restful space for family members to participate in the care of their loved one.
The Community Hospice House is open to all patients who meet the regulatory criteria regardless of physician or hospital affiliation. It is our goal to deliver the strength, comfort and support that patients and families deserve during this time.