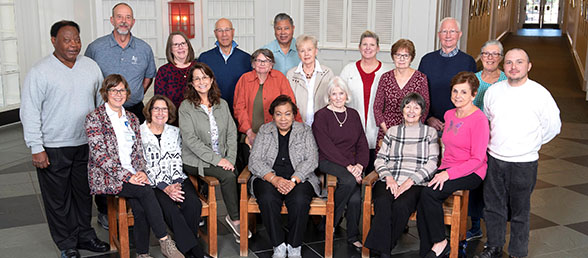 volunteers
Hospice volunteers play an important role in helping caregivers assist loved ones with life-limiting conditions. Volunteers provide aid, companionship and a sympathetic ear. They also can prove invaluable by augmenting the support of friends and family or filling a gap when neither friends nor family are close. Besides directly aiding patients and families, volunteers participate in Bon Secours Hospice with community outreach, education and office duties. They also help with special events and serve as speakers and educators.
No experience is needed as Bon Secours Hospice offers volunteer training. To learn more or to apply, see below or call 804-264-7387.
What Do Volunteers Do?
Examples of Direct Patient Volunteer Duties:
Listening to patients' life stories and concerns
Providing a comforting and supportive presence
Engaging in their interests, such as games, puzzles or books
Helping the hospice team understand the needs of the patient and family
Providing time for the patient's primary caregiver to take a few hours off to run errands, rest, visit friends, etc.
"Vigil Volunteers" sit with patients and loved ones in the last 24 or 48 hours of life.
Partnering with the therapy dog group Caring Canines, volunteers and their dogs (like Clifford, pictured at right) provide love and companionship to patients and staff at residential facilities and the Community Hospice House.
Examples of Non-Patient Volunteer Duties:
Data entry
Mailings
Educating the community
Assistance with special events
Who Can Volunteer?
Our hospice volunteers include people who work full-time, students and retirees. As a health system, our staff and volunteers must adhere to specific regulatory requirements concerning patient data and privacy.
Volunteer Requirements (any costs associated with testing are covered by Bon Secours):
All volunteers must:
Be at least 18 years old
Not have had a significant death in their life in the past year
Be able to volunteer 2-4 hours per week
Provide three (3) references
Complete a criminal background check (cost covered by Bon Secours)
Successfully pass a drug screen (cost covered by Bon Secours)
Test negative for TB (cost covered by Bon Secours)
Complete three online training courses (Hospice 101, Infection Control, HIPAA Laws)
Complete a full-day in-person hospice training (optional)
Training Provided
Volunteers are not required to have previous hospice experience. Bon Secours offers online and in-person training classes that cover topics such as the hospice philosophy, the death process, understanding the physical, emotional, social and spiritual issues people encounter at the end of life, and the U.S. laws protecting patient data and privacy (HIPAA).