Meet the Team
Carla Thompson, RN, BSN
Director of Bon Secours Richmond Hospice House and Home Hospice Program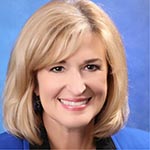 Hospice and palliative care since 2000
Over 10 years hospice management experience
Current Director of Bon Secours Richmond Hospice House and Home Hospice Program
Marc Flickinger, MD
Medical Director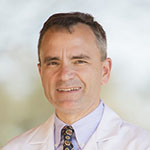 Dr. Marc Flickinger received his undergraduate degree from the University of Richmond in 1990. He completed his medical degree at Pennsylvania State University in 1994 and a Family Medicine residency at Eglin Air Force Base in 1997. Dr. Flickinger holds board certifications in Family Medicine and Hospice and Palliative Medicine. He joined Bon Secours Palliative Medicine in March 2016 after working many years as a full-time Hospitalist and doing some part-time Hospice work. Dr. Flickinger elected to pursue Palliative Medicine full-time because of his strong interest and desire to help people with serious illnesses make timely and informed decisions about their care. He became Bon Secours Hospice Medical Director in February 2020.
Aparna Ranjan, MD
Hospice Physician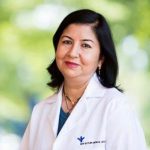 Dr. Ranjan is originally from India and completed medical school at King George Medical College, Lucknow India. She came to the U.S.A after marriage and did her residency in Internal Medicine at the Greater Baltimore Medical College, Maryland. During her residency she did her rotation in Geriatrics and Hospice. This experience completely changed her thinking and perspective on life and death. Dr. Ranjan further explored her interest and quest in the field of end of life care by pursuing a fellowship in Geriatrics, Palliative Medicine & Hospice from Virginia Commonwealth University in Richmond VA. She started her career as an Assistant Professor with the Department of Geriatrics at VCU/McGuire VAMC and then came to work for Bon Secours Palliative Medicine & Hospice for 8 years. To expand her knowledge of palliation in the community with managed care population and seniors in underserved areas she worked with JenCare Neighborhood Medical Center for 3 years. She returned to Bon Secours to continue working with her ultimate love and passion for Hospice. She feels honored and privileged to be able to serve the community when a family needs support, empathy and guidance to help the dying live. Dr. Ranjan lives in Chesterfield County with her family that includes her mother, husband, two lovely daughters, and her pet dog Teddy Bear.
JoAnn Malgieri-Fenner, NP, FNP, ACHPN
Nurse Practitioner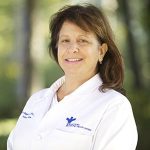 JoAnn received her Master of Nursing from Wilmington University and her Family Nurse Practitioner certification in 1996. JoAnn has practiced in palliative care while also working in Hospice since 1999. She has worked in palliative inpatient consultation since 2004 and has a passion for palliative education. She received her postgraduate palliative care education and practice program certificate from Harvard University in 2006. She moved to Virginia and joined Bon Secours Palliative Medicine in 2011 and has since transitioned to Bon Secours Hospice in February 2017.
Lynn H. Simpkins, FNP, GNP, ACHPN
Nurse Practitioner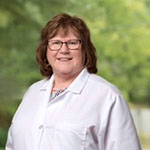 Lynn received her Master's in Nursing from the University of Virginia in 1994 and completed her Family Nurse Practitioner certification program in 1995. She is boarded in Family and Geriatrics as a nurse practitioner. She worked with hospice and palliative patients in nursing homes for many years. In 2016 she completed her postgraduate program in Hospice and Palliative Care through the University of Colorado and then passed boards. She joined the palliative department at Bon Secours in 2018 and transitioned to Bon Secours Hospice in 2021. Lynn is passionate about excellent end of life care. She is also a Certified Dementia Practitioner.
Kyle Clark, MSN, RN
Nurse Leader for Bon Secours Community Hospice House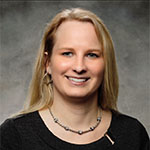 Registered Nurse (RN) since 2003
10 Years of total Experience in Hospice
Including Hospice Case Management, Hospice Business Development, Hospice Intake, and Hospice In-Patient care
8 Years of Hospice Leadership Experience
Fun fact- Has wanted to be a nurse since the age of 4 and has loved every aspect of caring for others
Keith McMullin
Senior Development Officer for Hospice and Hospice House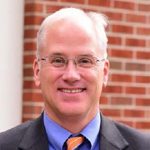 Keith has led health care program development, marketing and sales for more than 20 years in local and national markets. A graduate of the University of Virginia, he currently is a medical fundraiser for Bon Secours St. Mary's Hospital, homecare and hospice. Keith likes helping to solve health care's complex challenges and making a real difference in people's lives. Today, the health care industry is a landscape of change. He learned firsthand how to be successful amidst constant change and uncertainty through his second full-time job — caregiving for his mom with Alzheimer's dementia. "Missing Mary" is his first book.
Ellen Manning
Volunteer Services Manager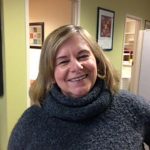 Ellen has been working in hospice for 14 years.  She was the fundraising and community relations officer for Hospice Support Care/Hospice House in Williamsburg Virginia for two years, worked as Volunteer Coordinator in Hampton Roads for three years and has been at Bon Secours Hospice as the Volunteer Manager since 2008.  Bon Secours has a very successful volunteer program with over 130 volunteers.  During her time at Bon Secours Ellen has started a Vigil Volunteer Program, Pet Therapy, Caregiver phone call program and the We Honor Veterans Program.